Scoliosis Treatment in Lithia FL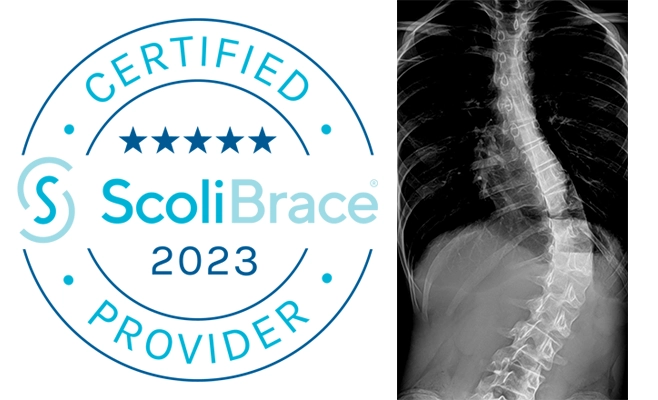 Unlike typical scoliosis bracing which prevents future damage, ours actually reverses scoliosis.
Scoliosis afflicts a large number of people, starting at an early age and becoming more severe as the patient ages. While this genetic deformity has traditionally been dealt with through surgery and bracing (which only prevents the issue from worsening), there is a new cutting-edge option now available that will actually reverse scoliosis, all without surgery.
Our chiropractic team in Lithia FL is dedicated to delivering the best scoliosis treatment options for children and adults in the greater Tampa area through a commitment to best bracing practices and patient-focused care. By utilizing the latest advancements in scoliosis treatment, our clinic is able to give our scoliosis patients hope for a much better quality of life through a revolutionary brace called ScoliBrace.
---
ScoliBrace in Lithia FL
ScoliBrace is a unique scoliosis bracing method using the best corrective principles. 3D imaging scans of the patient are taken and the brace is customized to fit their unique measurements and needs. Through time, the brace is adjusted incrementally by our scoliosis experts to gently push and pull the spine in the right direction, providing correction each and every day. Through months of consistent application, patients see and feel results unlike any brace they have ever worn.
Every patient on the ScoliBrace plan has experienced significant improvements in spinal correction, which in turn has led to not just physical improvements, but more importantly, a severe reduction in related symptoms, pain, and discomfort.
---
visit our ScoliBrace page
Want more information on this revolutionary scoliosis treatment option? Click to visit our ScoliBrace page, and begin your journey to better health today.
OFFICE HOURS
---
Monday
7:00am - 12:00pm
2:00pm - 7:00pm
---
Tuesday
7:00am - 12:00pm
2:00pm - 7:00pm
---
Wednesday
7:00am - 12:00pm
2:00pm - 7:00pm
---
Thursday
7:00am - 12:00pm
2:00pm - 7:00pm
---
Friday
7:00am - 12:00pm
---
Saturday & Sunday
Closed
STRONGLIFE Chiropractic and Physical Therapy