Stimulate muscles and get results much faster with Power Plate technology.
STRONGLIFE Chiropractic and Physical Therapy offers the innovative, time-saving, and results-driven Power Plate® in Lithia FL — an advanced and powerful way to improve your fitness and well-being.
---
Benefits of Power Plate vibration training in Lithia FL
Increased muscle strength
Improved range of motion
Reduced muscle pain and soreness
Faster recovery after workouts
Improved balance and coordination
Increased core strength & muscle definition
Increased metabolic rate
Increased blood circulation
Improved skin tone
Decreased Cortisol levels
Increased Bone Mineral Density
Increased levels of key hormones – Testosterone, Human
Growth Hormone, IGF-I and Serotonin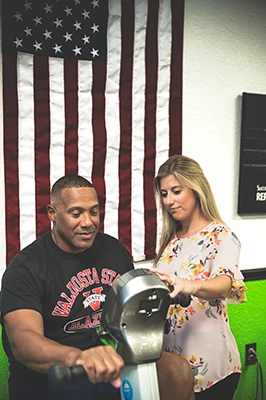 ---
Force = Mass x Acceleration
The Power Plate works by increasing the acceleration portion of the equation thereby accelerating the body's natural response to vibration, stimulating various muscle groups up to 40 times per second!
OFFICE HOURS
---
Monday
7:00am - 12:00pm
2:00pm - 7:00pm
---
Tuesday
7:00am - 12:00pm
2:00pm - 7:00pm
---
Wednesday
7:00am - 12:00pm
2:00pm - 7:00pm
---
Thursday
7:00am - 12:00pm
2:00pm - 7:00pm
---
Friday
7:00am - 12:00pm
---
Saturday & Sunday
Closed
STRONGLIFE Chiropractic and Physical Therapy